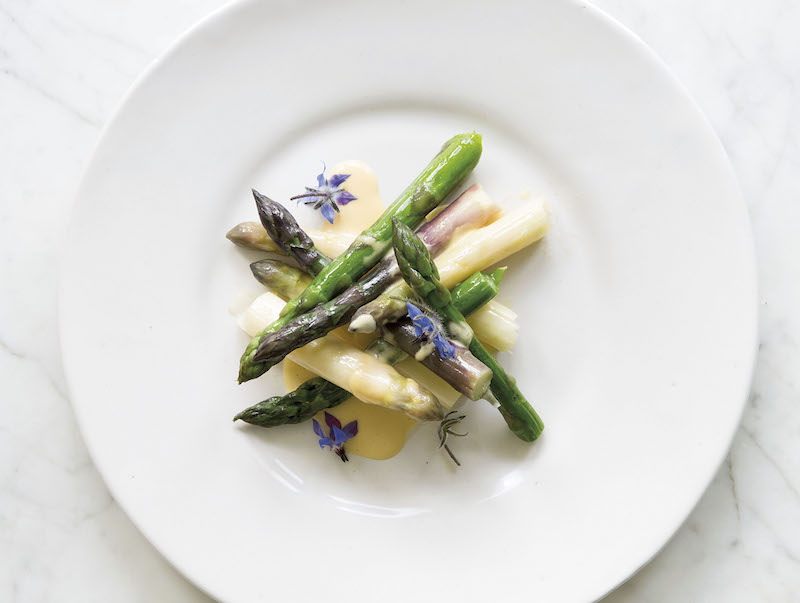 April 2017

Monthly Recipe/Skye Gyngell's Asparagus with Crème Fraiche and Parmesan

We just had to use the delicate and stunning asparagus as the centrepiece to our recipe for April. As I'm sure you're all aware Asparagus is at its best now and paired with crème fraiche and Parmesan (also known as fonduta) it's perfect for a light lunch or starter at dinner.

Serves 4

About 20 – 30 asparagus spears

1 ½ tbsp. mild-tasting extra virgin olive oil

Sea salt and freshly ground black pepper

For the sauce

2 organic free-range eggs

150ml crème fraiche

50g Parmesan, freshly grated

A scattering of borage flowers (or chervil or chives), to finish

Start with the sauce. Bring a large pot of water to the boil and add a generous pinch of salt. Break the eggs into a bowl that fits snugly on top of the pan and add a pinch of salt. Set the bowl over the pan of boiling water, making sure the base is not in contact with the boiling water, and whisk the eggs until smooth. Add the crème fraiche and whisk continuously until the sauce has slightly thickened; it will become thinner at first, then thicken and almost double in volume.

Remove the bowl from the pan. Add the grated Parmesan and season with salt and pepper to taste. Stir well to combine and set aside while you cook the asparagus.

Break off and discard the woody ends from the base of the asparagus stalks. Drop the asparagus spears into the pan of boiling water and cook for about 1 minute or until the asparagus is just tender to the bite. Using tongs, remove the asparagus from the water and drain well, then dress the olive oil and arrange on warm plates.

Set the bowl of sauce back over the pan and heat for a minute to ensure it is warm, then spoon generously over the asparagus. Finish with the borage flowers, if you have them, or chervil or chives.