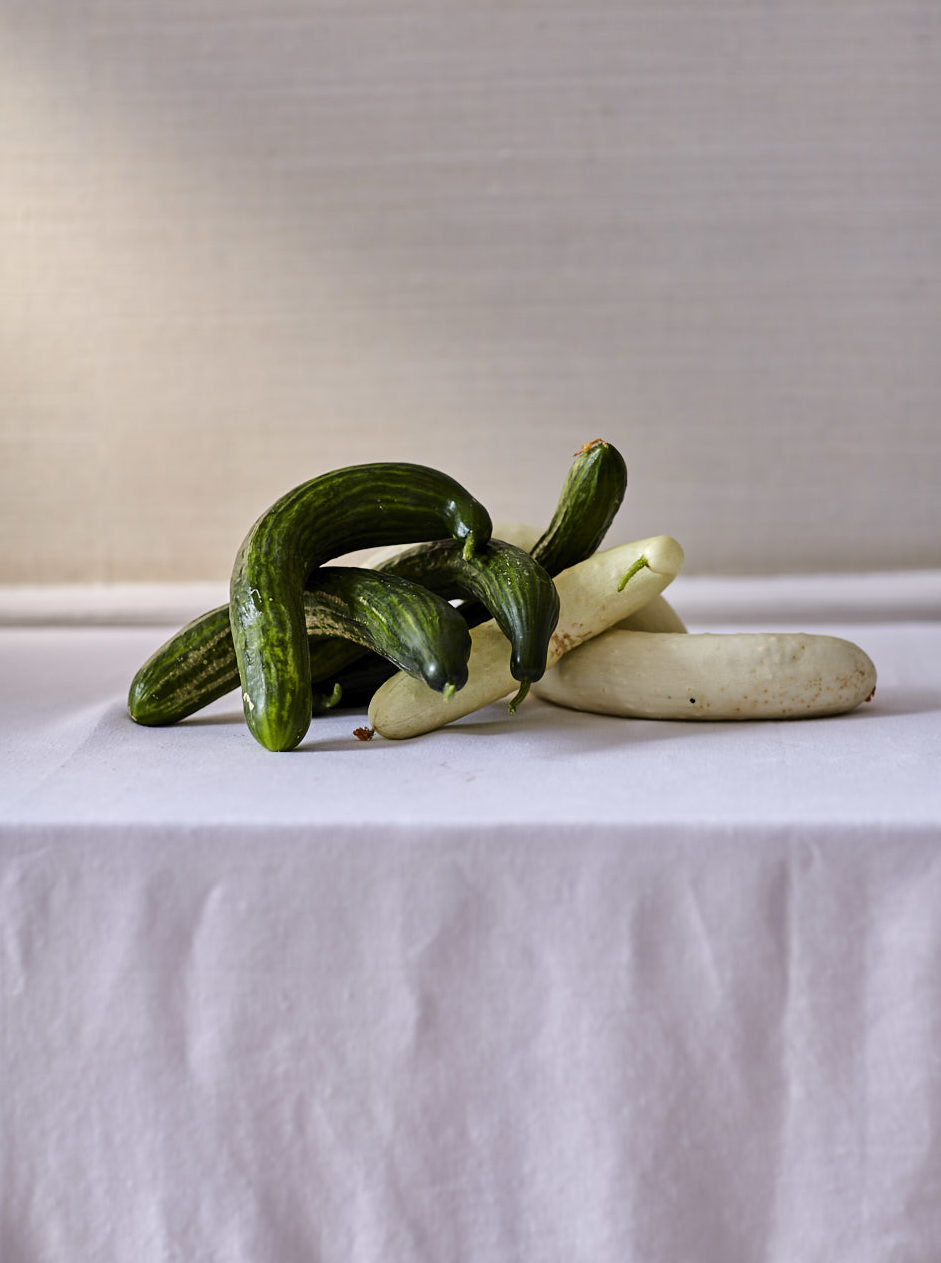 August 2023

Monthly Recipe / Cucumbers three ways

Cucumbers with roasted tomatoes

Although it may sound a little strange, cucumbers that are gently cooked have a delicate taste that is very appealing. We often serve it in the restaurant with slow-cooked rabbit.

Serves 4

4 small cucumbers
1 tbsp mild-tasting olive oil
12 small ripe tomatoes
250ml/8fl oz verjus or slightly sweet white wine
20g/¾oz unsalted butter
A dozen black olives
Sea salt and a little freshly ground black pepper

Slice the cucumbers in half lengthwise and scoop out the seeds, cut into half-inch slices and set aside. Place a medium-based heavy pan over a gentle flame and add the olive oil. Once warm, add the tomatoes and cook, stirring now and then until the tomatoes have begun to soften. Now add the verjus or wine and turn up the heat slightly. Allow all the liquid to reduce by a third then add the cucumbers, knob of butter, olives and salt and pepper, cook for a minute then remove from the stove and serve.


Pickled cucumber salad

This very clean and sharp salad is perfect for this time of year. It is good with poached salmon or even slightly oily fish such as mackerel or sardines. It is better to make a couple of hours ahead of time so that the cucumbers can steep in the dressing.

Serves 4

5 small cucumbers
¾ tbsp caster sugar
2 tbsp white-wine vinegar
1 bunch of dill, leaves only, finely chopped
A good pinch of sea salt
A handful of pea shoots

Rinse the cucumbers and pat dry. Using a vegetable peeler slice the cucumber lengthwise so that you have long, fine slices. Place in a colander and weigh down using a heavy plate – this will help remove most of the water that seeps from the cucumber. Put the sugar and vinegar in a bowl, add the dill and salt and stir well to combine.

After 20 minutes or so, remove the plate from the cucumbers and gently squeeze out any excess water. Place the cucumbers in the bowl and toss well together so that the cucumbers are very well dressed. Place in the fridge until you are ready to use. Toss the pea shoots through just before serving.


Cucumber and buttermilk soup

This sings of summer almost like nothing else I know – cool, clean and green in flavour with a pleasant and thirst-quenching acidity lent by the buttermilk. Its a favourite lunch dish when the weather is warm enough to sit outside. There is genuinely no cooking involved, takes no more than 10 minutes to prepare and should be made as close to serving as possible to ensure it maintains its clean, pure flavour.

Serves 4

For the soup
long green cucumbers 2
buttermilk 400ml
sea salt and freshly ground black pepper
cucumber pickle optional (see recipe below)
garden herbs 1 tbsp each of chervil, dill, mint, basil
extra virgin olive oil for serving

For the cucumber pickle
small pickling cucumbers 1kg
sea salt 90g
caster sugar 100g
good quality white wine vinegar 700ml
fresh bay leaf 1
red chilli 1
coriander seeds 1 tbsp
yellow mustard seeds 1 tbsp
fresh dill a handful, coarsely chopped

To make the pickled cucumber, wash and pat dry the cucumbers. Slice into fine rounds – a mandoline is perfect for this. Place them in a colander and layer with the salt. Cover and weigh down for one hour, drain away the excess liquid and rinse.

Place the sugar, vinegar, bay leaf and chilli in a saucepan and put on a low heat. Once the sugar has melted, turn up the heat to a simmer for a couple of minutes or so.

Pack the cucumber slices into sterilised jars, add the spices and chopped dill and pour over the hot pickling liquid. Store in a cool, dark place, then in the fridge once opened.

For the soup, put four soup plates in the fridge to chill. Peel the cucumbers and slice in half lengthwise, scrape out the seeds using a teaspoon, then chop into 2cm pieces. Place the chopped cucumber into a blender with the buttermilk and puree until smooth. Season with salt and pepper and place in the fridge to thoroughly chill.

Serve in the chilled soup plates with a spoonful of pickled cucumber, if using. Scatter the herbs over the top and finish with a drizzle of extra virgin olive oil.