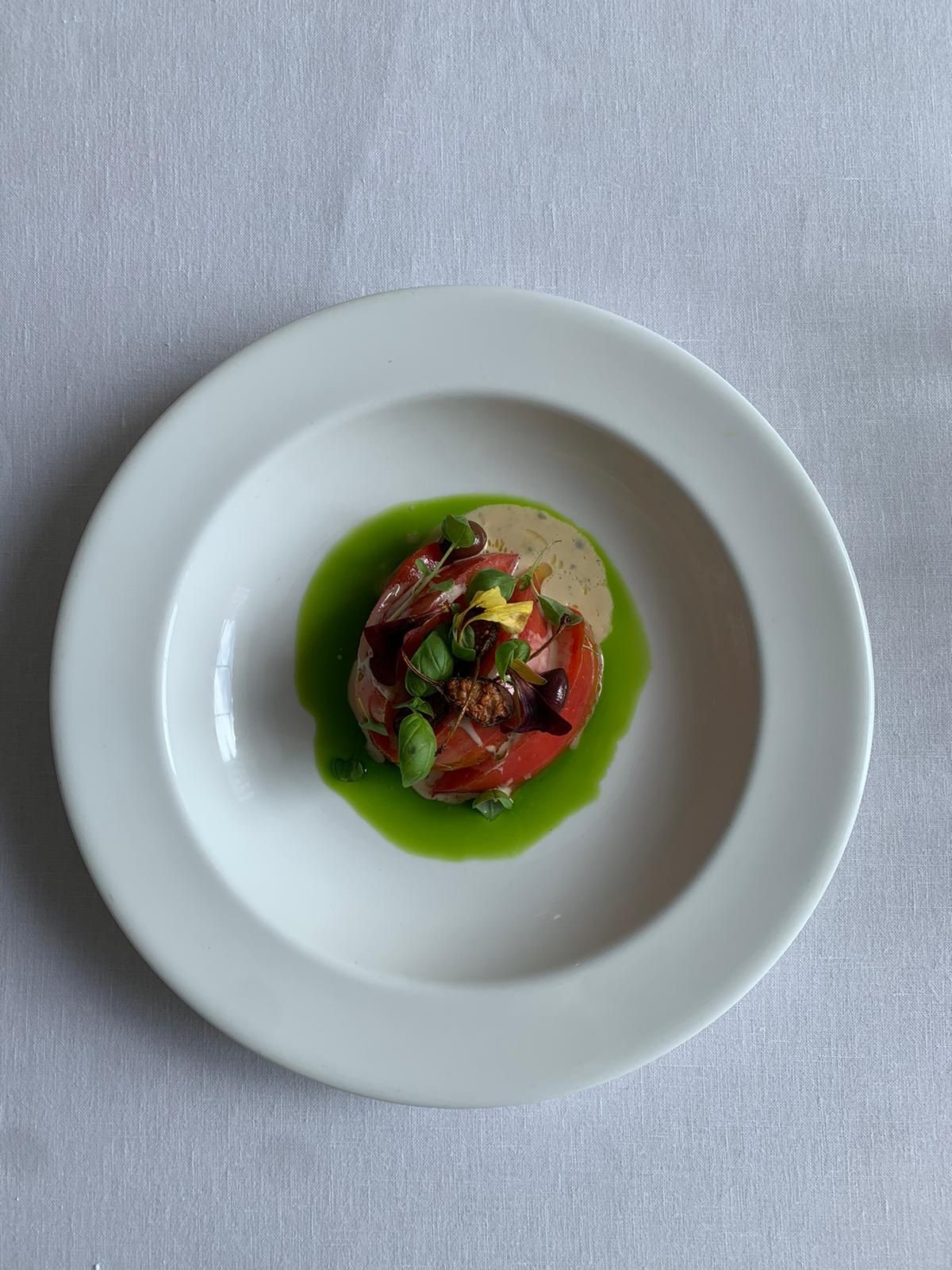 August 2022

Monthly Recipe / Vesuvio Tomatoes with Tonnato Dressing

Vesuvio Tomatoes with Tonnato Dressing

For the basil oil:
One bunch green basil, leaves picked
250ml grapeseed oil
Small pinch salt
For the tonnato dressing:
4 egg yolks
1 tin tuna
Juice of two lemons
4 Tsp capers
6 anchovy fillets
freshly ground black pepper
small pinch salt
250ml olive oil
To assemble:
2 caperberries
1 vesuvio tomato
Maldon salt
Black pepper
Red wine vinegar
Olive oil
Picked basil leaves
3 black olives
1. First, make the basil oil. In a high-speed blender blitz basil with 250ml grapeseed oil and a pinch of salt. Watch carefully and when the green pigment begins to split out, your oil is ready. Pass the mixture through a muslin cloth to remove any solid basil. You should be left with a vibrant green oil. Once strained, put into an oil bottle and leave upside down in the fridge (wrap the nozzle with blue paper and it shouldn't leak). After 3 hours the water and oil will separate, you will easily be able to squeeze out the water (which you don't want) and be left with pure green oil.
2. Now make the tonnato dressing. Place egg yolks, tuna, lemon juice, capers and anchovies in a magimix. Blend until smooth and then gradually add olive oil to make a thick tuna mayonnaise. Check seasoning, and add a little more salt and lemon if necessary.
3. Slice two caperberries in half, and deep fry at 160 degrees until golden and crisp. Drain on kitchen paper.
4. Slice the tomato into wedges – one inch thick. Season them with salt, black pepper, olive oil, and a splash of red wine vinegar.
5. Place three tomato wedges in the centre of the plate. Drizzle generously with tonnato dressing. Top with 3 back olives and the deep fried caperberries and finish with some freshly picked whole basil leaves.
6. To finish, drizzle basil oil on the plate around the edge of the tomatoes, to create a bright green border.