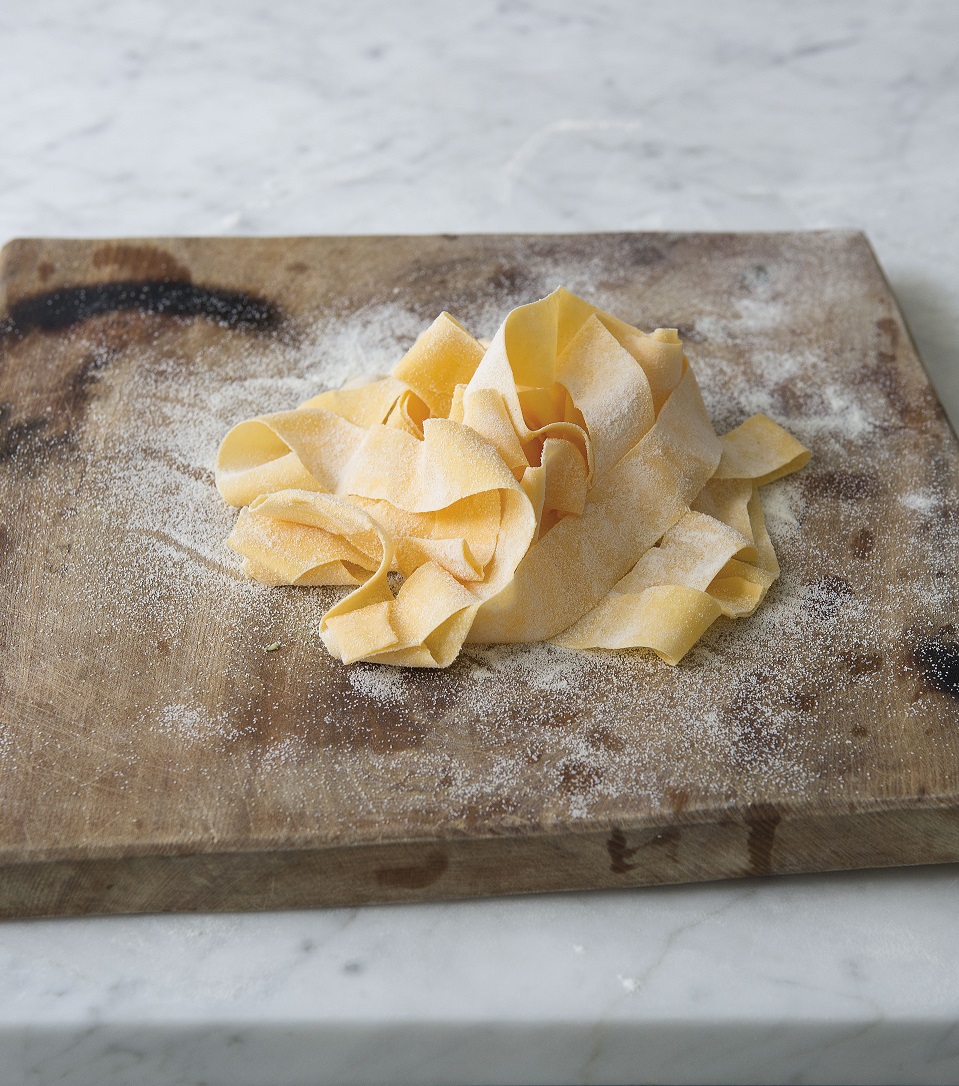 May 2017

Monthly Recipe/Skye Gyngell's Fresh Pasta

I have found that the simplest and best fresh pasta is made with nothing more than flour, good quality very fresh eggs and a little salt. You can make it in a food processor or by hand. As we make it in fairly large quantities in the restaurant, we use a food processor; at home I enjoy making pasta by hand. Whichever method you choose, it's important that the dough is not overworked; it is also essential to rest the pasta before tolling it out. It's worth investing in a pasta machine to use at home – they are inexpensive, take all the effort out of rolling and will last for years.

Makes about 500g

400g '00' pasta flour

A small pinch of salt

1 organic free-range medium egg

11 organic free-range medium egg yolks

Put the flour and salt into a food processor and turn the motor on. Add the whole egg followed by the yolks, one at a time, through the funnel, allowing each to be incorporated into the flour before adding the next. Once all the eggs are incorporated, stop the motor and gather the dough from the bowl – it may look slightly dry and crumbly but it will come together and form a ball easily if you press it in your hands. Wrap in cling film and rest in the fridge for at least 30 minutes before rolling out.

Take the dough from the fridge and flatten it with a rolling pin to the width of your pasta machine. Working in small amounts, no more than 200g at a time, pass the dough through the machine on its widest setting, in one movement.

Lightly dust one side of the pasta sheet with flour and fold each end in, so they meet in the middle with the floured side on the outside. Press the edges together. Roll the pasta through the machine 4 to 5 times, narrowing the setting each time, until you reach the narrowest setting (or one earlier for stuffed pasta). Feed the pasta seam side first into the rollers and flour the sheets lightly between each rolling.

The rolled out pasta should feel smooth and elastic. Allow it to dry for 10 minutes before cutting but no longer, or it may become too dry and brittle to work with. You can now do with the pasta what you like. For ribbon pasta, fit the appropriate cutter on the machine and pass it through. Lay the strands on a sheet of greaseproof paper or baking parchment to prevent tangling.

Extracted from Spring The Cookbook, (Quadrille, 2015), by Skye Gyngell.