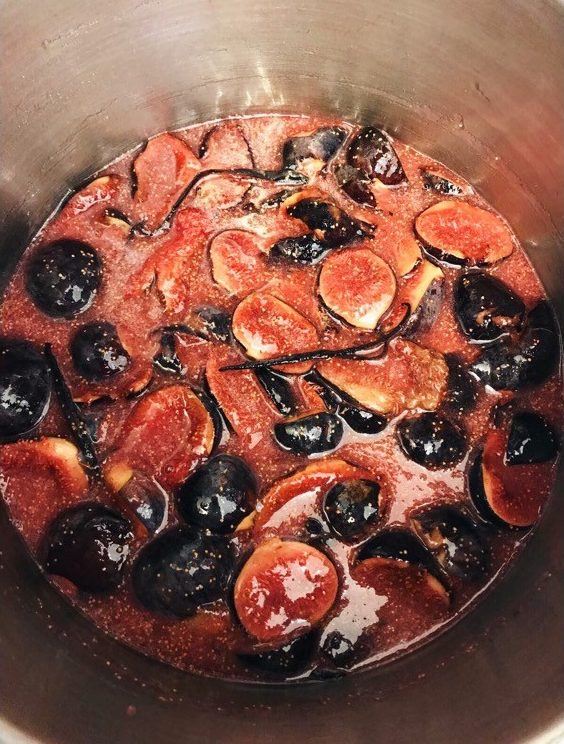 October 2017

Monthly Recipe/Skye Gyngell's Fig & Vanilla Jam

Homemade jam is purer in taste and texturally far more interesting than the gloopy jams found in supermarkets. This one using figs and vanilla is a favourite.

Always simmer very slowly to extract the pectin. Stir every now and then to prevent the fruit from catching and don't be afraid to top up with a little water if it becomes dry.

Once you think the jam is ready, place a spoonful on a saucer in the fridge for a few minutes to cool. Run a finger through the jam: if it wrinkles, it's ready. If not, return to the stove and boil swiftly.

When it's done, rest the pan with the fruit in it for 10 minutes until the preserve is setting around the edges. This helps even the distribution of fruit and juice throughout.

Fig & Vanilla Jam

1kg/2lb ripe figs
The zest and juice of 1 lemon
1 vanilla bean, cut in half lengthwise
1kg/2lb caster sugar

Trim the figs and place in a bowl with the lemon zest, juice and vanilla seeds. Spoon over the sugar and mix. Steep for 2 hours, then cook on a low heat until the sugar dissolves.

Next, turn up the heat and boil rapidly until the jam reaches setting point.

Remove the pan from the stove, and cool for 30 minutes before spooning into warm, sterilised jars. Pack each jar with a vanilla pod.