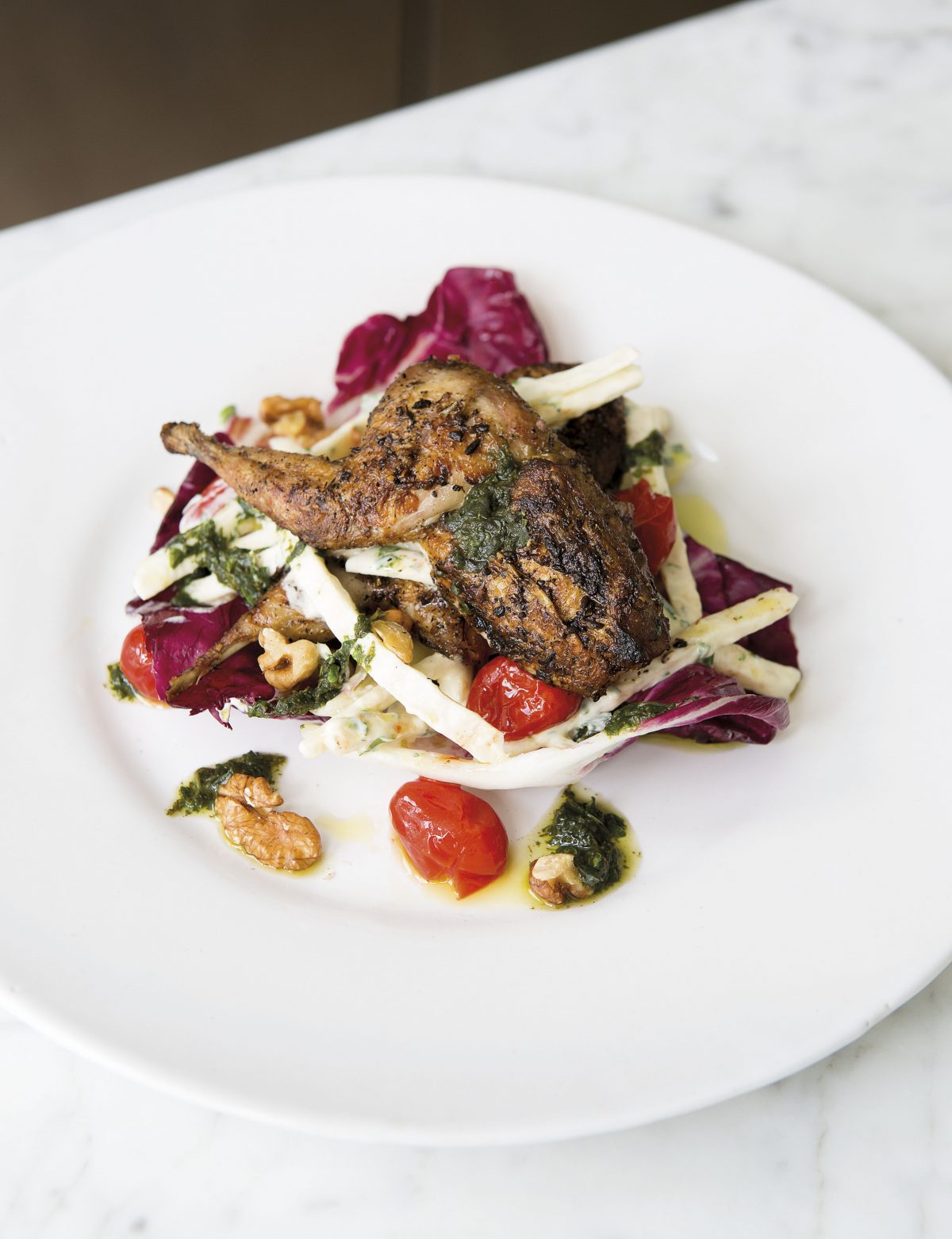 November 2018

Monthly Recipe/Spice-Roasted Quail with Celeriac and Walnuts

Quail is one of my very favourite little birds. Deeply flavourful and
deliciously plump, each one gives a few succulent mouthfuls and perfect
little bones that are irresistible to gnaw on! This is an elegant and suave
first course with complex and interesting flavours.

Ingredients:

Serves 4

4 quail
1½ tbsp roasted spice mix
(mixed coriander, cumin,
fennel and cardamom seeds,
toasted and freshly ground)
1 dried red chilli, crumbled
4 tbsp extra virgin olive oil
About 12 baby plum tomatoes
½ tbsp red wine vinegar
1 small celeriac
Juice of ½ lemon, or to taste
1 small radicchio, leaves
separated
12–16 shelled fresh walnuts
Sea salt and freshly ground
black pepper
For the dressing
2 tbsp crème fraîche
1 tbsp Dijon mustard
For the marjoram oil
A bunch of marjoram, leaves
only
100ml extra virgin olive oil

Preheat the oven to 200°C/Gas 6. Place the quail in a bowl.
Sprinkle over the spice mix and dried chilli and season well
with salt. Drizzle over 1 tbsp olive oil and turn the quail to
coat. Transfer the seasoned quail to a roasting tray.

Place the tomatoes in a small roasting tray, trickle over the
wine vinegar and 2 tbsp olive oil and toss lightly. Season with
a little salt.

Roast the quail on the top shelf of the oven, with the tomatoes
on a shelf below, for about 12 minutes until tender.

Meanwhile, peel the celeriac and slice into fine rounds, then
into matchsticks. Immediately drop into a bowl of cold water
with a little lemon juice added to prevent discoloration.

For the dressing, put the crème fraîche in a bowl with the
mustard and a small pinch of salt and stir well to combine.
Once the quail are cooked, cover loosely with foil and rest
in a warm place for 10 minutes. Let the tomatoes cool slightly.

Meanwhile, dress the radicchio with lemon juice and olive
oil, salt and pepper to taste. Drain the celeriac and toss in a
separate bowl with the mustard dressing.

For the marjoram oil, pound the marjoram leaves with a
pinch of salt, using a pestle and mortar, then gradually work
in the olive oil – you will have a lovely sludgy sauce.

Arrange the salad leaves, tomatoes and celeriac on plates
and sit the quail on top. Finish with a scattering of walnuts
and a few spoonfuls of marjoram oil. Serve immediately.