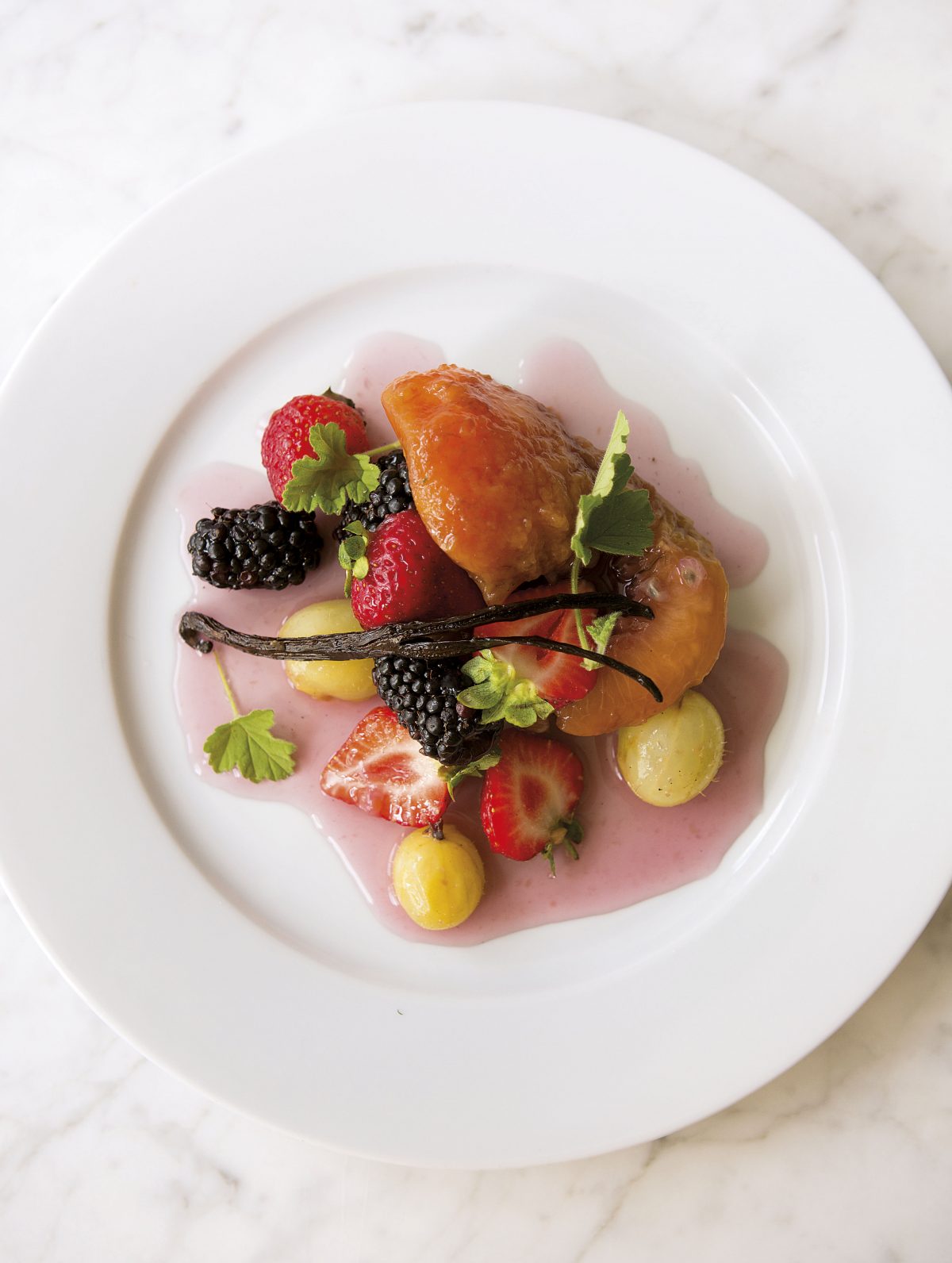 June 2018

Monthly Recipe/ Skye Gyngell's Iced Summer Fruits with Rose-Scented Geranium Syrup

Iced summer fruits with rose-scented
geranium syrup

Wonderfully refreshing, this is the perfect ending to a long, lazy
summer lunch in the garden under dappled light. Not too sweet, slightly
ethereal in flavour and unfussy in execution, it is the sort of dessert
I like to serve. It isn't served frozen as such, it just feels cool – like ice –
as it slips down your throat. Vary the fruit according to what's in season;
later in the summer I use greengages in place of gooseberries.

Serves 6

6 ripe, sweet peaches,
unblemished and heavy
for their size
100g icing sugar
A few sprigs of rose-scented
geranium leaves (Attar of
Roses), or a splash of rose
syrup
1 vanilla pod, split in half
lengthways
200g gooseberries
200g small ripe strawberries
100g ripe blackberries

Slice the peaches in half and remove their stones. Place in
a wide heavy-based pan, in a single layer. Add the icing sugar,
geranium leaves, if using, the vanilla pod (with seeds) and
enough water to just cover the fruit. Place over a low heat
and bring to just below a simmer. Stir once or twice, then
put a lid on the pan and cook very gently for 10 minutes or
until the fruit is just tender when pierced with a small knife.

Meanwhile, top and tail the gooseberries. Add to the pan
and cook for a further 5 minutes. Remove from the heat and
set aside to cool.

Once the fruit has cooled, if using rose syrup, add a little to
taste. Transfer to a suitable container and place in the freezer
for about 45 minutes or until really well chilled.

To serve, slice the strawberries in half lengthways. Arrange
the peaches and gooseberries on chilled plates, spoon over
the syrup and add the blackberries and strawberries. Finish
with a few geranium leaves and/or the vanilla pod if you like.
Serve at once.