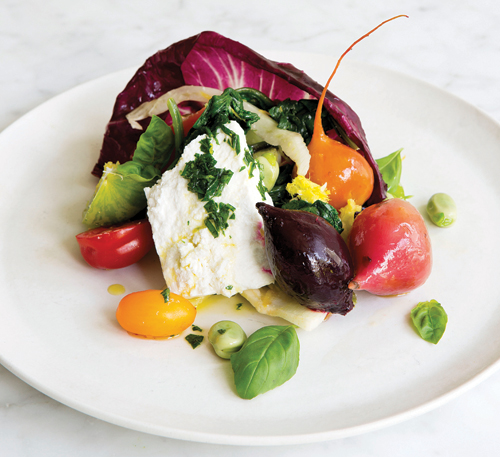 April 2023

Monthly Recipe / Salad of beetroot, tomatoes, goat's curd and radicchio

Salad of beetroot, tomatoes, goat's curd and radicchio

Serves 4

12 small beetroot (ideally a mix of ruby, yellow and Chioggia varieties)
2tbs red wine vinegar
About 50ml extra virgin olive oil
200g baby broad beans, freshly podded
About 8 large radicchio leaves
About 8 little gem lettuce leaves
Juice of ½ lemon
4-6 ripe tomatoes, depending on size (ideally a heritage variety)
200g goats' curd or young goats' cheese
2tbs good quality black olives, pitted (optional)
Small handful of basil leaves
Sea salt and ground black pepper

For the basil oil
A bunch of basil, leaves only
100ml extra virgin olive oil

Scrub the beetroot well under cool running water, then place in a saucepan and pour on enough water to cover. Add a good pinch of salt and bring to the boil over a medium heat. Lower the heat slightly and cook for about 35 minutes until just tender when pierced with a sharp knife.

Once cooked, drain the beetroot and place in a bowl. Add the wine vinegar and about two tablespoons of the olive oil, season with salt and pepper and toss gently to coat the beetroot in the dressing. Set aside to macerate and cool.

Blanch the broad beans in boiling water for one minute, then drain and refresh in cold water; drain well.

Put the radicchio and lettuce leaves in another bowl. Dress with the lemon juice, remaining olive oil and salt and pepper and toss lightly using your hands. Slice the tomatoes or halve them if small.

To assemble, arrange the salad leaves on serving plates with the beetroot and tomatoes. Add the goats' curd and scatter over the broad beans and the olives, if using. Spoon on the basil oil and finish with the basil leaves. Serve at once.