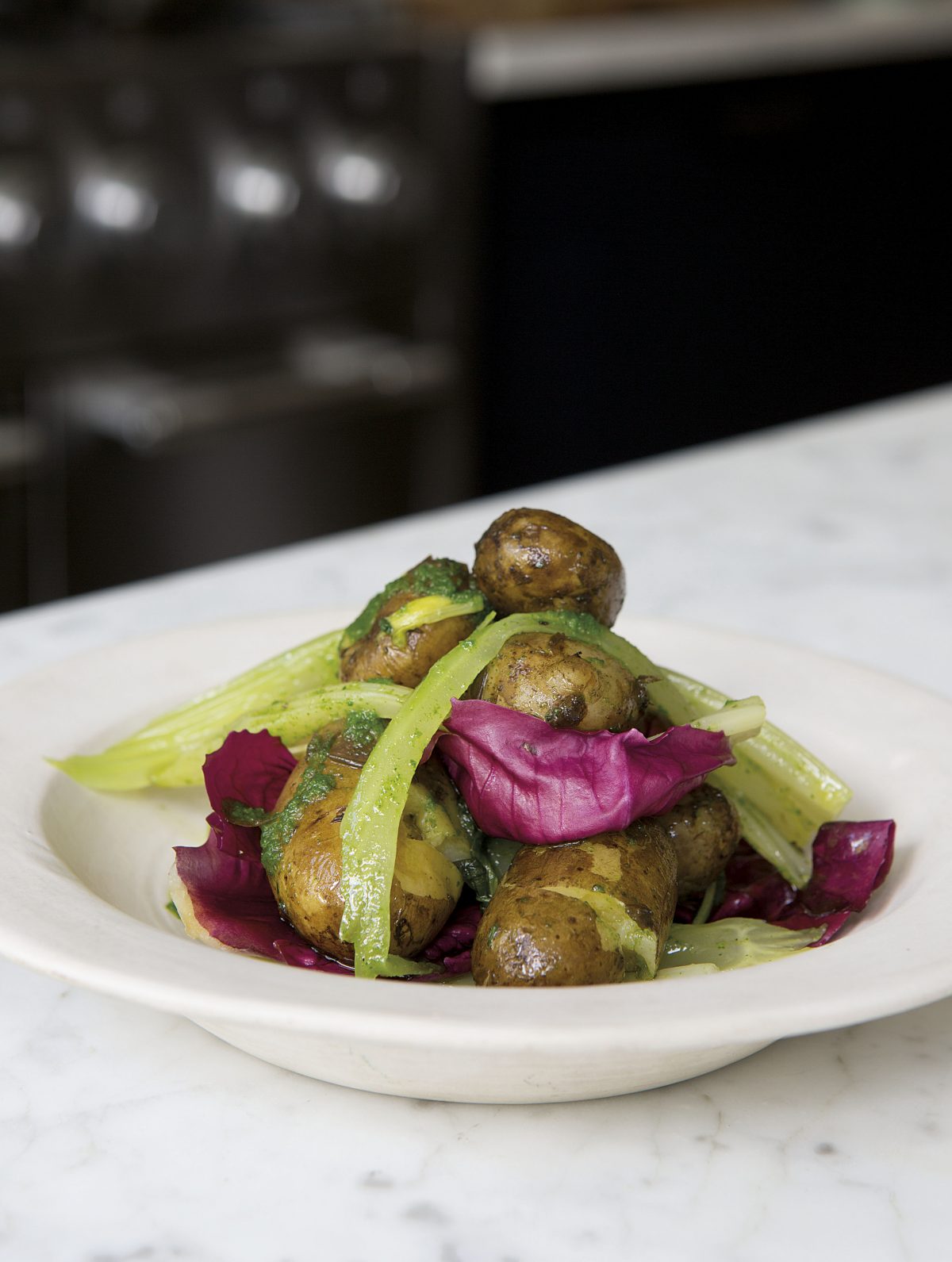 May 2018

Monthly Recipe/ New Season's Potatoes with Lovage Oil

Full of personality, lovage is a strong herb, tasting a little like
celery, so I tend to use it sparingly. It is particularly good added
to a salsa verde to accompany tender young lamb in late spring
or early summer. I've also discovered that it is very nice with the first of the
year's potatoes. Here I've paired it with Jersey Royals, lightly braised
celery hearts and radicchio, which adds colour to the plate.
It works as an accompaniment to almost anything – try it with grilled
lamb, roast chicken, or the first of the season's wild salmon.

Serves 4–6

Ingredients: 
1kg Jersey Royals, or other
small waxy potato, such as
Roseval, Ratte or Pink Fir
Apple
A bunch of celery (tender
white heart only)
150ml verjuice
2 tbsp olive oil
2 bay leaves
1 thyme sprig
1 small radicchio, leaves
separated
A little squeeze of lemon juice
Sea salt and freshly ground
black pepper
For the lovage oil
4 lovage sprigs
180ml mild-tasting extra

First make the lovage oil. Place the lovage in a food processor
or blender, add the extra virgin olive oil and a small pinch
of salt and blend until really smooth. Transfer to a bowl and
set aside.
Put a pan of well salted water on to boil. Scrub the potatoes
gently under cool running water to remove any dirt. Once
the water is boiling, add the potatoes and cook until just
tender; this will take about 20 minutes.
Finely slice the celery on the diagonal into long fine shards
Place in a shallow pan and add the verjuice, olive oil, bay
leaves and thyme. Pour in enough water to just cover, season
with a little salt and place over a medium heat. Bring to the
boil, then reduce the heat to a simmer. Cook until still just
firm to the bite, about 5 minutes. Drain and set aside to cool.
Pass the lovage oil through a fine strainer if you would like
a clear, verdantly green oil (or leave it unstrained for a little
texture).
Drain the potatoes as soon as they are cooked and place in
a bowl. Add the radicchio leaves and celery. Spoon the lovage
oil over the vegetables, add a little lemon juice and toss well
to combine. Taste and adjust the seasoning before serving.