Table Food Story – Our Culinary Journey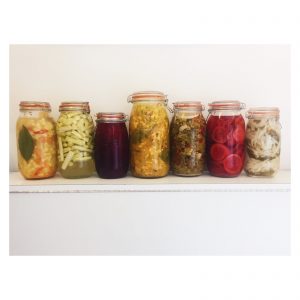 Community dining is about knowing that we are all equally deserving of the same sustainably delicious and nutritious food. A future only achievable with everyone at the table. In our kitchen we seek to align these same principles by preparing and sourcing what is on our menu with connection and consideration.
Our suppliers have come together to make this project truly viable. Through their generosity, we have been given an array of produce that would not have made it on the market. Offcuts of beautiful cheeses, oversized but delicious beetroots, and undersized pullet eggs from young hens will all be incorporated to create something delicious.
By bringing out the best of every part of what we are given and not only what habit or custom dictate, we have become more adaptive. We have used the stalks, not only the leaves, of wild garlic, to make a pickle; their strong flavour and texture altered into something not only palatable, but delicious. We hope to serve this with labneh, a hung yoghurt, made from milk our baristas discard when making coffee.
In the past, preservation was a way of providing food in scarcity, but it has also allowed us to transform our more neglected ingredients. By placing our cauliflower stems in a brine, with a few simple flavourings, we allowed naturally present cultures to do their silent work, until a bright, savoury, nutty, flavour developed.
Cooking in this way requires planning and forethought, but is creatively rewarding. At Spring, bread is baked twice daily, which, along with great bread, results in quite a surplus. So we decided to dry our excess bread, and mill it into a fine crumb, from which we have made crackers (from our rye bread), and a sweet, sticky dessert cake (from our sourdough, and almond meal from when we make almond milk).
Expect an abundance of fresh vegetables, pickles, preserves, ferments, cheeses, bowls of rice, spiced curry, and, most of all, the company of those who were intrigued enough to take a seat next to you.